Was at the hairdresser today and several pimply tweenagers (12/13 yrs old) were there. Instruction to the hairdresser is to cut No. 2. To those who are not familiar what No. 2 is, it means the setting of the electrical hair cutter, sort of like lawnmover like that. No. 1 is going GI Joe style, i.e. almost botak.
Reason? These tweenagers are going to secondary Chinese schools on Monday and these premier Chinese schools have extra long lists of how their students should dress, hair style, shoes, etc etc. Like my nieces, they have to cut the fringe, tempurung style of hair. I remembered my two nieces crying as my sister cropped their long hairs which they kept from babyhood. I also remembered my nephew having to measure the school uniform's sleeves, pants and all those craps. Chinese schools tend to have this communist style of thinking of cloning all their students into the same China-apek and China-amoi style.
That's why my papa sent me to English school. (never mind that English school in no longer in existence) I can dress how I want, pinafore can be as long or as short as I fancy. We girls can even unbutton our top two buttons when we were wearing skirts. My life as a head-girl (prefect) was easy back then because I don't have to deal with hairs and measurements of skirt lengths and all those frigid matters. In fact, I don't remember much about maintaining discipline in school except going out with the head boy after school. Yeah, life was a lot relax back then. Because we have no internet, porn and smoking and Ectasy weren't cool.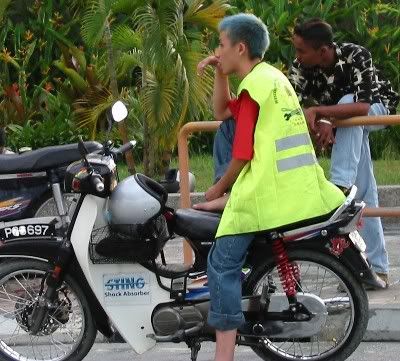 Now? So many do's and don'ts and yet, what do we have? Ah Beng with blue hairs. Ha Ha Ha. I snapped this photo in the Tsunami aftermath. He was sitting there so cool, shoeless, his feet in mud, watching his bunch of Ah Beng's friends washing their motorbikes outside Gurney Plaza. Probably, he imagined himself to be Nicholas Tse, on a Harley. Couldn't resist showing off how 'blue' he is. I actually got another photo of an Ah Lian with pink hair but the photo wasn't too clear (because I dare not appear obvious, risking her digging my eyes out for taking her photo). Otherwise, they would make a nice pair. Oh yes, I had partially blurred out the bike registration number to protect Ah Beng identity but in case you are interested, the number is 697. Add a 0 in front and you can try your luck with Magnum 4D and 1+3. If you strike, don't forget my kamsen hor?
Other Back to school reads :
My earlier blog
A doctor's Back to school tales.