Nobody tell me it is like this. Seriously, I have 5 kids but I had never taken care of the previous 4 from babyhood till toddlerhood. I was a working mom and after a hard day's work, I merely pick up kids that had been fed, cleaned and trained. Bring them home, play and sleep. Next morning, drop them off and it goes on.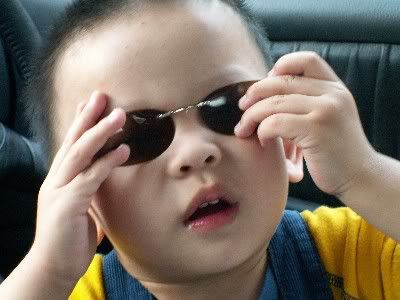 Now only I know how fun it is to have a toddler. My goodness, my toddler is so cunning. He is so manipulative. Better actor than Bollywood. Some of the things that stand out are:
he will take off his diaper as and when he fancies, climb on the dining table or bed to get a good glimpse of his naked self in the mirror. Admiring his bird-bird and go 'hoooooh, hoooooh' when bird-bird stands up. The amazed face – I dunno to scold or to laugh.
if I start to open my mouth to sing, he will start shouting 'tiam, tiam, tiam,……' (diam/quiet) until I give up
but he has the rights to sing 'oh tam, oh tam' continously (Oh come all ye faithful) till you go mad
if I talk too much, he will stare at me, pointing a finger, eyes 'jeling' and say 'enap, enap' (enough)
when papa is home, and I happened to smack his legs or hands, he will cry till he vomits
after that, he will not let me sleep on the same bed and tell me to 'ciao' (go away)
and the worse thing now is Barney runs continously, even when he is not watching, no one can stop the stupid VCD (kicking myself for introducing that purple thing to him). (Someone please set up Barney-hating support group!!!!)
Reminder to other parents – Toddlers are dangerous creatures. They can get into all sorts of trouble. Nothing is safe around them. Keep watch, 24/7. Train your maid/babysitter/parents/caregivers on home safety and accident prevention. As a parent, are you familiar with basic first aids? Ask around and organise small groups to learn them from St. John Ambulance, Red Cresent Society, your doctors etc. Read some of my previous articles on my parenting website.
Nothing stops my toddler and nowhere is unreachable for him. Even with my most careful attention, child-proofing, precautionary steps etc, he still gets into trouble. Here he is taking a bath in the kitchen sink but done under supervision (in my to-be vacated home).