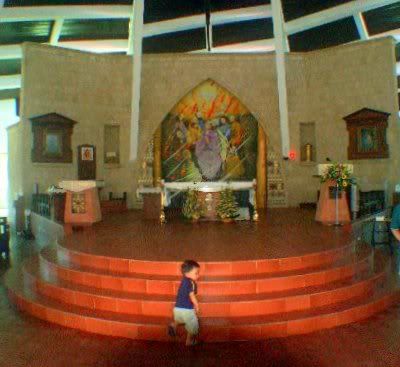 I took my little guy to church today and found this photo of him at the church altar appropriate to express how I feel about baby Ryan's loss. Kah Shin, when you read this, know that though I cannot travel to be with you, I am with you with all my thoughts and prayers, today and the time to come when you need a shoulder to cry on, a listening ear or just a hug.

Dear Lord
Mommy said a new angel has come to you
And he is with Vincent koko now
Please give strength to baby Ryan's mommy
Just like how You guide my mommy
Please keep my kokos and I safe
And watch over all the children on earth
Take care of Vincent koko and all the angels in Heaven
Thank you Lord Jesus, Amen.
Blessed are those who mourn,
for they will be comforted. Matthew 5:4
Twinsmom and some friends attended baby Ryan's cremation today. Ryan's ashes will be scattered in Lumut maybe tomorrow. Both Kah Shin and I had talked about this before, planning ahead, preparing for the worst many times. That's why I had taken the task of raising funds to fulfil's Ryan's New Year wish. I am glad we (bloggers, strangers, friends, MMB members and so many generous people) had done something for this brave little baby. I still have some funds (money from all of you) with me and I shall discuss with Kah Shin what she wants to do in Ryan's memory. Kah Shin is a Buddhist who is very calm in this and may the Lord Buddha provides enlightment to her to accept her loss.
There is another special guy, name Ryan too that I had wanted to share with others. He is a teenager from Kuching. Both Ryans' moms are very brave moms.