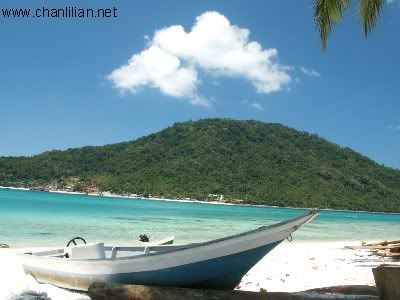 Looking at picture postcard views every day for three long days is certainly fun. So is going snorkelling, amongst corals, Nemos and giant leatherback turtles. And able to test how brave I was and still is. (more about 5xmom vs 5xdad stunts and also 5xkids crazy antics in other blogs)
But *sigh* too much good food, idling and watching sunset after sunset


can be bbbbbooooorrrriiiinggg.
After that, even my toddler appear bored. *sigh* Poor guy is wondering if he is ever going to grow up like these bunch of Ah Bengs and Ah Lians.


Ah Beng who wears a Lifeguard t-shirt but got chicken heart, much smaller than 5xmom. Ah Lians who wear make-up to go snorkelling!
Perhentian was great. The resort was great. Everything was nice but without computer, life just doesn't seem right. Either this is a sign that I need some mental help or the bloggers/readers of my blogs have become very much part of my life.
It is nice to be missed and it is great to return and found comments like:
Oi! Faster come back and blog! Very the sienzzzzz!!
wei! coming back already or not?
So, the next time I am going holiday, I must make sure I am connected to the internet. In Perhentian, we have no TV, no papers, no internet, no life. Thank goodness for SMS.