What to you do when you are trapped on an island , with only sands to occupy the kids? (tips:read comments on link given) You build sand castle after sand castle after sand castle and …..you get the drift.
The island is very beautiful. The clear nights with sparkling stars, millions of them. Soft, powdery sand and the sound of the waves are enough to melt the hardest of hearts. And I suppose if you are a male and sitting with your mother-in-law, you may even get infected with the romantic mood. Look into mil's eyes and you suddenly saw the beauty of the ogre or something.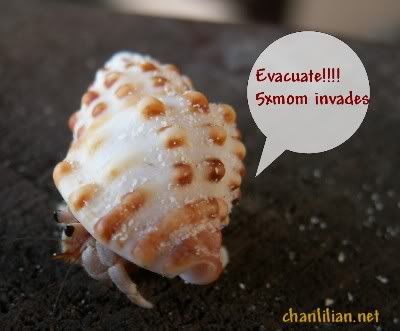 But then, I was with 4 boisterous sons who are turning the whole beach upside down. Crabs were running away from home. Hermit crabs were leaving their borrowed shells. I was on the verge of jumping into the sea due to boredom. SMS saved me (read comments board).
So, in desperation, I suggested to my kids to build the human anatomy. I got the idea because they were burying each other into holes. I told them it will be freaky if they build human shapes instead of sand-castle on the beach. Imagine a row of bodies lying on the beach. Yeah, yeah, dumb woman. You think your sons are dull like you meh?
And here's what they build. Which got my 3 kids and I into laughing fits. It had been real funny (5xdad and toddler gone to sleep liao). Imagine some 8 yrs old and young teens forming their ideal breasts shapes with the wet sands. They went from puberty to A cup to D cup to Pam A before her breast reduction.


After enough photo taking and laughing, I told them to 'erase' the evidence. I don't want the bunch of Ah Bengs and Ah Lians (helloooo Passenger A, surfnux's fren, you read this?) to think that I am a twisted woman who is teaching my sons to be sex maniacs.
And that's how the song, Take my breath away came in. My #2 who had a small spade with him, scoop up the breast and sang,
Take my breast away…. *breast by breast he scoop*.
(can someone tell me whose song is that originally?)
And suddenly everyone said at the same time, "Mommy, blog, blog."
P/S : It is a small world after all. I took a photo of my toddler looking bored and yikes, the handsome ah beng guys and pretty gals at the background whom I bitched about actually stumbled upon my blog! 5xmom is preparing to receive a lawyer letter liao. Sorry ha…Mr Red T-shirt and friends.