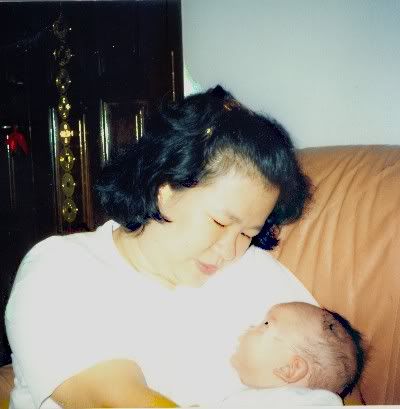 This photo is taken on CNY in 2002. Of Vincent.
I had actually written something that needs a box of tissue papers to read but 'someone' had disturbed that train of thoughts. So thankful for that, 'someone', I ter-delete my notepad text file.
Nevertheless, just found this picture while I was organising my photos. 4 years ago, at this time, Vincent got sick and was admitted. I remember spending the 9th day of CNY in Lam Wah Ee Hospital cursing that I cannot be home for prayers to Thnee Kong. Then, I remember how desperate I was in getting home before Chap Goh Meh. At one point, Dr. Cheang had discharged Vincent. We had packed the things to return home and said goodbye to Dr. C which included my usual handshake and 'I don't want to see you anytime soon' greetings. But just as we were about to leave the ward, Vincent suddenly got into trouble. (He was on oxygen and you can see the tiny tube across his face.) Nothing can describe my despair then.
And that was the end of my hope of ever returning home at all. We spent a subsequent 2 months in Lam Wah Ee, one month of which was in the ICU. Then, we went to UMMC and Vincent died after 10 days in UMMC on May 1st 2002.
Don't anyone try to tell me I have Matthew. Yesterday, I broke down talking to Kah Shin (baby Ryan's mom) because of this. I told Kah Shin no one can ever take Vincent's place. No matter how. Poor Kah Shin ended up having to console me instead.
Now, I got over my foul mood. Time to find something to laugh again. Hugs please?