As a responsible rakyat and blogger, I have gone out on a mission to please fellow bloggers. I had been out of the house from 10am till 6pm, working hard to make this blog a cun one. *muahahahaaha*
Since so many of you 'love' snakes….., here's my toddler with a baby phyton.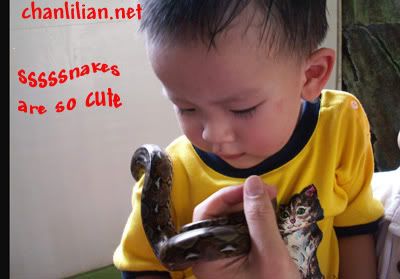 Unfortunately, I can't find enough cockroaches to scare the macho guys, so I hope the following two will please you.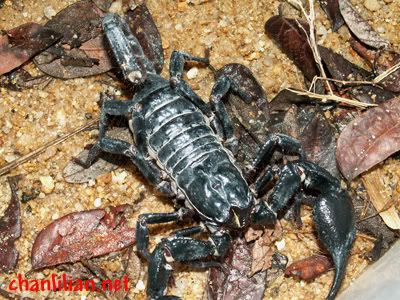 A scorpion, taken with macro shot. Hey, I am risking getting stung, being so close to one. So, go pat-pat the scorpion. I have photos of them in A4 size (2650 pixels) so tell me if you want a wallpaper.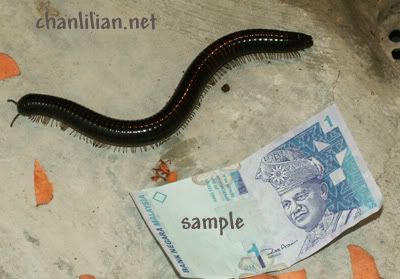 A thousand-legged worm, all shiny and black. This is a huge millepede. I put the RM1 note there to compare size and also tip Mr. Millipede to pose for me.
All the above photos taken from the Penang Butterfly farm. (What la, this 5xmom went to butterfly farm but captured photos of creepy crawlies pulak. Ya mah, like dat can make people geli mah.)
But you know what you should be afraid of? The liulian hairstyle. Hahahaha, be afraid, be very afraid. Whoever flame me or my gang of bloggers, I poke them with my sharp-sharp hair.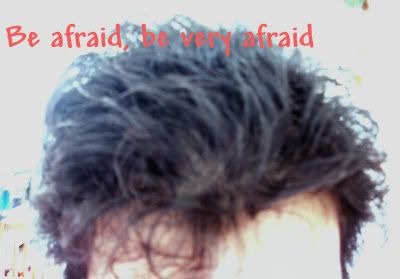 I am lousy with photoshopping so my hair turned out a little blue. I took my own photo with a mirror so it became too bright.

Blogs to share :
Mr. Kiasu – Go learn kiasuism from him.
Zberjnak – He would rather die than live with creepy crawlies
HAVE A GOOD WEEKEND TO ALL!