A long time ago, my mom earned some money rearing ducks and chickens. So, I would help her with the chores. In order to get healthy, fast growing ducks, the ducklings had to be fed protein food as in termites and earthworms.
Do you know that earthworms are aplenty in fertile grounds? I would dig cans after cans of earthworms and fed them to the ducklings. Ducklings and little chicks are sooooo cute. Yellow, fluffy furs when they first hatched. There are male earthworms which have harder outer layer and they came in rainbow colours. Yeap, put them on a hard, hot cement floor and you can see them wriggling so hard to run away from the hot surface. And oooohhhh, the rainbow colours are in all glory, very much like our CDs when light is shone on it.
When you stay in a kampung, there are many things to occupy your time. Whenever we came across carcasses of dead animals, the kids in the neighbourhood will swarm there. To do what? To see the maggots! Gross? No! Maggots are nature's best creation. Maggots help to clean the environment. Maggots are just cute little babies of the fruit fly (or whatever la). Cute little, white, active babies. Aren't they cute?
Well, one day when I was about 10 yrs old, my #2 brother who is 10 years older than me, killed my love affair with worms and maggots. He threw one male earthworm, the wriggly, shiny one into my clothes. It went into my back and from that day on, I HATE EVERYTHING CREEPY CRAWLIES like worms, maggots, caterpillars, men, more men…… (except Worms Armageddon) Including this type of worm. I told my sons I will wring their necks if one of them dare to do the stunt my brother did. And if that is the last candy on earth, I will not eat it too.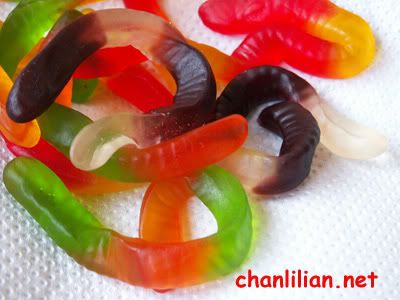 That is how I got my phobia. What are you afraid of? Why?
(I have another phobia but better keep it for another blog, another day, in case I ran out of topic to write.)