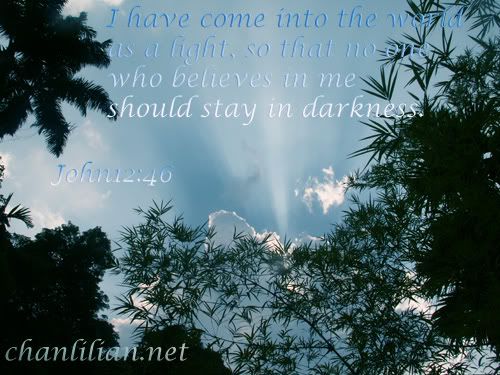 It is Maundy Thursday or Holy Thursday today. Also known as the Lord's Supper. There is a solemn mood hanging amongst us Christians as we are approaching Good Friday.
Let me therefore, travel back in time and recollect the memories where I was confronted with the above question. It happened to me sometime in April 2002. The conversation took place in Dr. Cheang's clinic in Lam Wah Ee. It is not something that I can easily forget so it is not difficult for me to write down the conversations and even remember the expressions and feelings.
Dr. C : Well, Lilian, you understand the situation, right?
(He had explained all the medical stuffs and the 'The End' story. If Vincent is strong enough, Dr C said he would have taken Vincent to the US for treatment. And I told him that he can take a piece of my lungs anytime. Which is not possible because babies can only receive heart & lungs transplant which have never been performed in Malaysia.)
Me : *pull deep breath and stare into Dr C's eyes* Will there come a time when you are going to ask me "the question"?
(gesture with both hands to indicate the inverted comma. 'the question' = 'do you, Lilian want to let Vincent go or want us (doctors) to continue keeping him alive?')

Dr. C : *tilted head, indicating hard to answer question* Well….his lungs may give up slowly and his SPO2 will drop on its' own slowly. (SPO2 = oxygen in the blood)
Me : If I have a choice, I wouldn't want him (Vincent) to go through that (meaning – struggling with breath). If I can, I would let him go. Just press one button and bye-bye. (I am special because even in the most difficult situation, I will find something to release tensions.)
Dr. C : *very touched with what I said, rubs chin* You are not the first mother to tell me this. Usually, it takes a lot of sacrifice and love for you to be able to say this. It is not easy to let someone you love to go. And only the very brave one is able to make this decision. Lilian, let's pray that I will never have to ask you to make any decision.
The ending? Dr. Cheang personally took Vincent from Penang to University Malaya Medical Centre for further treatment. Well, I am thankful that I didn't have to make any life and death decision because Vincents' heart stopped and the doctors there were unable to resuscitate him. He died on May 1st, 2002.
However, the recent debate on whether the husband of one comatose woman have the right to take away her feeding tube and let her die has made me think. I read Mei's blog and had been pondering over it.
If I am in that situation, I think I will let my loved one die. Probably, I will pray hard over it and carry on with the decision. Though I have faith that death is in God's hands, I will also use my human instinct to decide. Say I know my loved one prefers to die than suffer and I have loved the person selflessly, I will stop all medical intervention and wait for the outcome.
Taking away the feeding tube is more or less the same as making a decision whether we want to carry on some chemo treatement for a suffering cancer patient. Do you know that many parents have been forced to decide for their child's life? Many children with cancer had to suffer greatly and sometimes, the parents decide not to go for further treatment.
**Just now, I was watching lovingly at Matthew sleeping. He was so cute and calm. And I know that I wouldn't have Matthew, if Vincent is still around. And if Vincent is still around…. well, he may not be strong, cheeky, naughty, active, cheerful as Matthew. Though it may seems selfish to many people, I know that it is not a selfish thought. I willingly released Vincent to return to Heaven. I truly believe we will meet again. And therefore, I know that if Dr. Cheang has to ask me to make that life and death decision, I would have agreed to let my loved one die. Because when the patient is not able to make the decision for themself, the next-of-kin closest to the patient should carry the heavy task for the patient.**
***Addition : I found the poll result from CNN as follows:
Who should decide Terri Schiavo's fate?
Politicians 1% 1139 votes
Judges 4% 8075 votes
Her parents 22% 43881 votes
Her husband 73% 142785 votes

I voted for her husband. A wise decision.***
Warning : Don't anyone dare to question me on my opinions, ok? Unless you have a son and you have to decide whether to let him live or die. Otherwise, keep your smart alec comments to yourself. I am not in the mood to argue with anyone. This blog is about me and my son and nothing to do with what happened to someone we do not know far, far away in US. Geddit? Otherwise, tiuss la.