I am jumping on the bandwagon on this silly but humourous chain of blogs about Xiaxue.
Firstly, this is what caught my attention:
A young man with a great sense of humour, someone who adores Xiaxue. Hopefully Xiaxue will notice the hensem face one day.
What is involved in the chain is everyone pose the same way like Xiaxue. This idea came from some MrBrown. Here's my representative.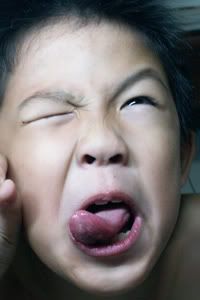 Now, why would I, old auntie be bothered with a bitchy SYT from Singapore? Wanna know why?
Because we are seriously lacking bloggers like her over here in Bolehland. Xiaxue is a someone ALL girls love to hate. Why? 'Cos her blog is good. Her thoughts are great. Her identity is not hidden. And who can compete with her few hundred comments each day? Tell me who? No one! So, girls, go on hating her 'cos probably, all the guys you know adore her.
Meanwhile, lalalala (sing a happy song), I am too old to compete with her. If I can turn back time, say 20 years earlier, probably my ambition is to be Xiaxuey. (in Hokkien it means to ashame oneself. I borrowed this phrase from Kenny, I think, posted in MunKit's blog)
Gotta run! Dentist appointment! Please spare me on the dentist chair.
**Die, die, I am quoted in mrbrown's blog as sexy lilian. So in order not to disappoint readers, I have put up a real photo of me at my new post.**