Two years ago, I was baptised on Easter vigil and the next day, I was flat out due to the late night.
Last year, I forgot what I was doing on Easter.
This year, I am in the choir. And the kembang thing is the priest, Father F.A. praised our choir group! Oh wow, he said our singing of the Latin hymns made him feel like he is in Italy or something. For a new kid like me, that is sooooo encouraging. My little voice may not matter much but being part of this wonderful group of people is great.
I had been spending my Sundays in choir practice and I think I am going to do it for the rest of the year. Being in a choir takes a lot of discipline and teamwork. And it is not often, one get to rock the cathedral with one's voice.
The choir group have lunch today with Father F.A. and I brought 3 of my kids along. My #3 turned extremely well-behaved because I warned him that if he acts like a monkey (which he usually does), Father F.A. is going to make him an altar boy. And Father F.A. sat next to him! So, I have peace devouring the nice food from Kelab Ilham because even my toddler sat through the whole lunch minus the running around.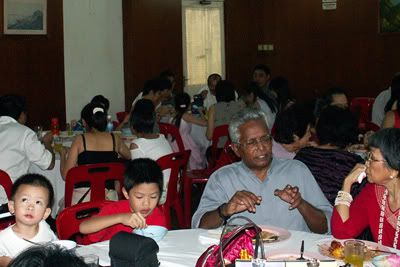 Seen here are left to right, my toddler Matthew, #3 David, Father F.A. and Auntie S. Auntie S is my inspiration. She is twice my age but has less wrinkles than me, less white hair than me and she just love life.
Oh yes, finally Bart get to sing with Angie. Usually, Bart plays the organ. And if you want to see what I wear for choir, go to Bart's blog to have a peek.