OK, this is not official but merely my comparison. The quake in Penang on 26th December 2004 which caused the tsunami did not cause my fish tank to spill it's water. But this time, water spilled over. There is about 1.5 inch of height between the water level and top of the aquarium.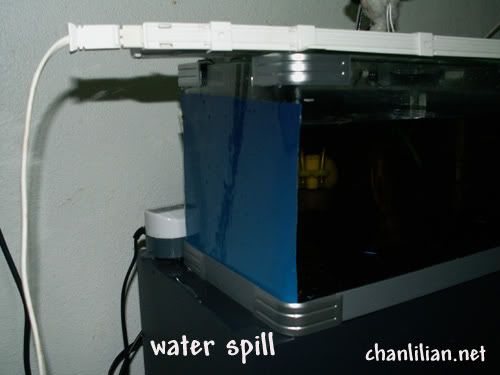 The tank is placed on my altec lansing speakers.
And the water spilled all the way down to my TV cabinet.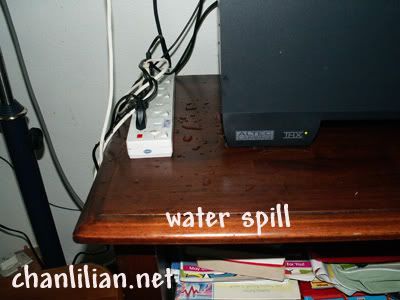 So, you guys can judge for yourself if this is worse or less.
Another thing – This quake really makes me weak in the knees because it went on for sometime and when I was carrying my toddler down the 3rd floor of my apartment, the staircase is still swaying. And when my hubby and older kids followed behind, the staircase is still swaying.
My #2 son, 13 yrs old insisted his hamster became very alert. And the rats in the ground floor drain are squeaking. He insisted he heard them.
My precaution?
I am not sending my 3 sons to school tomorrow. Reason being? Their school field is just next to the sea. Their school is therefore, also near the sea.
And probably, I am going to make sure my atm stays home too. (He works in Kulim, Kedah, crossing the bridge)
When the quake happened, I haven't prayed as loud and as hard before. And even my kids also started calling on Jesus. Yes, it is that spooky. The 8 yrs old was running down the staircase, calling Jesus, please protect us and keep us safe from harm. Now, he will learn not to use God's name in vain.
Some IM messages:
paul says:
http://tsunami.geo.ed.ac.uk/local-bin/quakes/mapscript/demo_run.pl
paul says:ok
paul says: they detected it liao
paul says: northern sumatra
doc says: yup
paul says: magnitude 8.2
Everybody, pray!!! Hope there is no more tsunami. If Sri Lanka/Bandar Acheh can be flattened, so can Penang. If you have relatives staying around the sea, tell them to be on alert. Don't mean to scare you guys but that's how shaken I am.