I am not a good mommy. I am not a good mommy. I am not a good mommy. (repeat 100X)
I am not a good mommy because other mommy plaid her daugther's hair and put nice nice ribbons: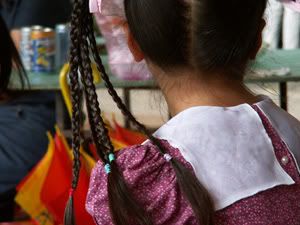 while I laughed till I peed in my pants and said under my breath,
"Who the hell has time to plaid FIVE plaids on each side of her daugther's head and put such a gawdy, ugly, stupid looking ribbon on her already dumb looking daughters! And she did the same for both daughters! And dressed one of them in transparent materials with sequins to attend a primary school family day under Penang scorching, burning sun!"
I am not a good mommy because I let my son went to school with my durian hairstyle.
I am not a good mommy because while other mommies were busy snapping photos of their precious kids on ponies rides, colouring contests and whatever boring stuff available ….
(sorry, boring photos don't deserve my diskspace)
I snapped photos of the 2nd coolest guru besar I met whom has a loud hailer, big KKC (as in camera la), one-man show in dealing with all the functions simultaneously and merely need to point his fingers to get the bunch of boys scurrying. And I even got a photo of a German shepherd too, which is the Polis DiRaja Malaysia drug sniffing dog. I wonder if I am a drug addict, the dog would tear me apart?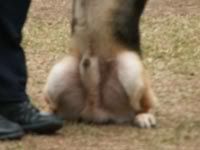 Oops, have I cropped the photo wrongly? Yikes, I hope my blog doesn't attract too many female dogs!
*this blog was wrongly published earlier when I haven't finished writing. I already received one very flattering comment.*
So, to whoever wanna come by and start making a fool of themselves by calling me names, come. Where this blog is concerned, I don't care what you want to think of me. Because, I am one helluva of great mommy. I am not a good mommy because I am a great mommy. Geddit?
**********
On an unrelated note – I have just bought a new domain today. It will be the website for my grief support group for bereaved parents. This is going to take up some of my time but I believe it is a worthwhile project. I have spent some of my own money, a lot of my time and plenty of my tears to draw together the network for parents with ill children and bereaved parents (two seperate sites). Plus my parenting forum and website. What drives me? The fact that each day, I have the chance to do something to help others and make a small difference in their daily life.
IT guys out there, SOS please. I need someone to help me put up the phpBB forum and redirecting. I only bought a domain name and will temporarily park my grief support group forum elsewhere. Write to me if you can help? My email link is at the side panel? I am currently the owner and site admin for www.mymomsbest.com/forum. I believe I should be able to manage once the forum is installed.