Come, come. Come and have a bowl of errr…..chrysanthemum tea?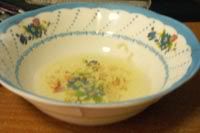 It was the bowl yesterday. Today, it is his brother's fav. cap. Before that, it was the dustbin. Or sometimes, some plastic containers or the hamster running ball.
And he thinks he is being clever and expects me to clap and sing the 'oh you are so clever, I am so proud of you' song.
I had proclaimed very arrogantly that kids know how to pee when they are ready. I don't need to go through the toilet-training grind nor buy blood-sucking expensive books written by some ang moh MD, PhD to teach my kids how to pee. Or spend money on some expensive potty.
All males have the natural instinct, built in by the Engineer of all time, God. And I have proven it, haven't I?
**here on, it is written by toddler, age 2, ok?**
If you need to pee, you pee. Who cares where you pee as long as mommy says 'You are sooooooo clever!!!' After all, didn't the adults, like my papa, who pee along highways? Or my big kor-kor who peed into mineral water bottles or mommy who peed into the sea?
Anyway, mommy won't scold me because the bowl comes free with the fridge we bought. If I peed into my diaper, it cost her 55 sen. I peed into the bowl, papa can use it to mix his paints or something.
But nowadays, I dunno why no one dares to take the cup left on the table and just drink it. And mommy would taste her coffee a bit before gulping it. They'd are sooo paranoid. Why ah?
*****Back to community messages by 5xmom
On Astro Channel 35, NHK – they have this cute show called My Mother shown around 12.10 noon. Let your toddler watch it. Very nice way to learn toilet training, brushing teeth and wearing pyjamas. And you also get to learn Japanese. Genkiiiiiiiiiiiii!!!!!! Inaii inaiii (someone tell me wtf is that?) I sing it all the time but dunno what the heck I am singing.
Question – Where is the weirdest place you have peed?
Me? In bed, as a grown adult, pregnant, of course. LOL! While having dreams that I finally found a toilet which has a door. Shit!
Come on, don't be shy. Tell me!