Here's an update on what took place at University Malaya Medical Centre yesterday.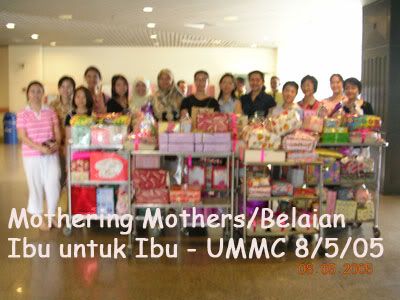 Mothering Mothers project. Photo taken at the lobby. Note the number of gifts. Sorry, photo is not very clear.
This is an excerpt from the project leader, Ros.
To me it is indeed the best way to celebrate Mother's Day, by cheering the mothers in the wards and meeting fellow moomies from MMB and MNM.

First off all, I'd like to thanks everyone who has involved in this project…from moms/persons who have contributed gifts/cash, those who have turned their offices/houses into gudang, to the ones who have had a good time shopping and wrapping gifts, those who could make it to the hospitals, the bloggers who have spread the words around, and especially to Lil who has came up with this great idea.

After loading some 80+ gifts from my office, I drove to UMMC and there were many of moms there. And it was only 9.35 am. I truly appreciate the good job of placing the gifts on the trolleys and getting the exact number of gifts that finally reached UMMC. And yes, like Haslina mentioned it was 174 altogether.

Also thanks to the flower girls who made sure that every mom received one stalk of rose that day , inc. doctors and nurses. Thanks to KS for the flowers, and I'd been receiving SMS from her in China wishing everything went well.

And the idea to have a baloonist turned out to be great too. Richard had his hand busy sculpturing baloons not only for the patients, but the little visitors in the wards and also for moms who loved to give to their kids at home (inc. me).

We were accompanied by a staff from the corporate dept. (En Razi), Sister Rokiah and a few others. Sister Rokiah was kind enough to check with the counter staff in each of the maternity/labour wards. After getting a greenlight, we were allowed to actually went into all wards.

It was all done slightly after 12 noon, and we still had some gifts extra which we contributed to Sister Rokiah and staffs invloved directly with the visit.

Again, to everyone involved, thanks!
More updates on the gifts to the shelter homes for single mothers later….