We tailed a Mahindra Scorpio in a jam. (blardy Kuala Lumpur cars jamming my neighbourhood la, CB)
5xdad : Hey, this is not bad what.
5xmom : It is a Mahindra la
5xdad : What's wrong? It looks like Renault finishing what. See the interior? (our Naza next the Mahindra, driver driving without air-cond)
5xmom : A Mahindra is Made-In-India ok?
5xdad : So what? It's price is only one third of a Discovery
5xmom : Don't even talk to me about it. I don't want to hear.
A Nissan X-trail passed by and I was turning to look.
5xdad : That's what happened to you people la. All conned by the Americans. See Nissan X-trail say 'sui' (nice), see Mahindra, never give 2nd look.
5xmom : OI, OI, who you want to bluff? Nissan is Japanese la.
5xdad : Don't care la. You all (ish, what's with the atm ha?)got blinded by American marketing tactics. Everything they say good, you follow. Must learn to see things differently. Cannot just follow the crowd.
5xmom : OI, can keep quiet or not ha? All I know is cars are supposed to be either Made-In-Malaysia or Made-In-Japan. Made-In-India stuffs are only exotic jewelleries and colourful sarees. Definitely not for cars. And don't even suggest any continental car unless you want to buy me a BMW X5.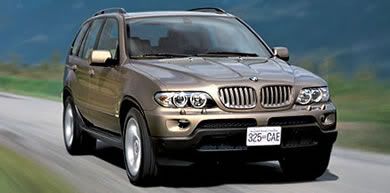 Photo source
Anyway, bye-bye X5 because lucky number not so lucky. BTW, Paul if you are reading this, tell Auto Bavaria their website sucks. You should offer to help them upgrade. It takes ages to load just the banner and there are no photos of the car interior.