Chinese has the Chinese calendar which follows the moon. According to the Chinese calendar, it is my Chinese birthday today. 2nd day of the eighth lunar month. I almost forget it thimmm 'cos so busy. Never mind, not that I celebrate it but just got something to tell.
Do you know that if you tell someone your time of birth and Chinese date of birth, the other person can use that information and kasi lu kena santau? Well, the time and date of birth are very important when calculating the eight pillars of life (or four pillars of destiny) , ba zi. It is also important in fengshui. So, don't reveal this if you don't want someone to go find some witches and screw up your life or make you fall in love with some frog. Hehehe, not that I know when I was born 'cos our time of birth is not registered in the birth certificate. (but I do know, of course) I know how to calculate a person's ba zi. But I don't do that anymore. Choy…..it is against my religion. But I did know my own though. Like which section of our life is good, which is not. The period are divided into blocks of 10 years or something like that. Can't remember now.
Photo taken from MoonandBack graphics.
Tomorrow – 24th September 2006 is Vincent's fifth birthday. I am going to be too busy to dwell over this too because I have church, meeting and then, a seminar. Pheww…no time to ponder at all. He never even celebrated his first birthday but I did do a webpage for him at Geocities last time. You know lah, all emotions topsy turvy then, so very productive. Don't go to the page if you can't handle your little dam in your eyes.
Anyway, tomorrow is also the birthday of someone very significant towards Vincent's short time on earth. This someone is also very special to me because he somehow did influence me and my views of Christianity. (I dislike Christians last time, wokay?) He is the same age as me, same birthday as Vincent. Once, he told me that it is fate (whatchacall in Cantonese liao?) that our paths crossed. He had helped me tremendously in coping during Vincent's ill health, after his death and without him, I probably would never discover my strength. I owe my writing flair to him. He was the one who urged me to write the book, write those articles in the newspapers and is my most appreciative reader. Of course, he doesn't know I have a personal blog. I think?.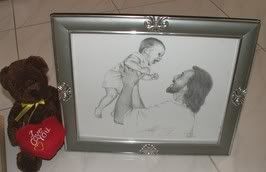 Ok, now I am into rambling mood….
On Vincent's first birthday, I gave him a gift. It was a painting of Jesus holding up a baby. His patients' parents asked him if that painting is him. LOL, we had a good laugh over it. I told him yeah, go grow long hair, beard, wear robe and throw that spectacles away and you are Jesus's twin. These parents aren't familiar with Jesus and thought it was him when he was younger and a hippie. ROTFLMAO.
Anyway, he is one special person when dealing with critically ill babies. So, to Vincent's fav doc, Happy Birthday and may the good Lord continue to bless you with the wisdom and special touch to care for all the sick babies in the NICU. "God will command his angels concerning you to guard you in all your ways." (Psalm 91:11)
Have a good weekend ya!
(Copying Biblegateway verse for the day:
"Not only so, but we also rejoice in our sufferings, because we know that suffering produces perseverance; perseverance, character; and character, hope." (Romans 5:3-4)  )