Nasi lemak which I cooked today.
OMG, I just realised that I have lived with this man for 20 years which is almost half of my 41 years life. But then, I have always been a 'needy' person. I must have someone at my beck and call, someone to return home to (after work, i.e.), someone to take care of me when I am sick, someone for me to share my pride and my disappoinments, someone to play house with, someone that watch over me, someone who lets me mother over, someone who protects me, someone…..ok,ok, enuff already, you get what I mean.
I cannot imagine living life as a spinster single girl. Oh boy, who is going to find money for me to spend, who is going to arrange my taxes, pay the electric and water bills, change a lightbulb, indulge me, take me holidays and shopping and errr…have legal sex with?
20 years ago, we had our first date. We lived as a couple since then. We have not been separated for more than six nights in a row in all these 20 years. The longest nights was the time when I was warded for premature birth in the hospital. He took me on all his business trips if the trip lasts for longer than one week.
Gee, am I lucky or what? Oh wait a minute, he is the lucky one.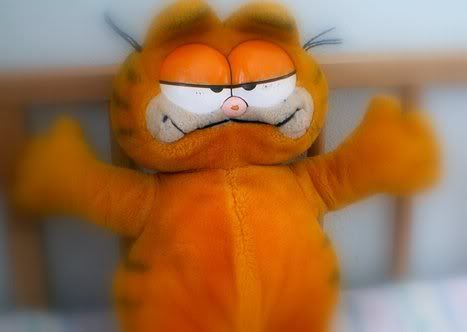 That's our 20 years old Garfield. He bought it for me just before my birthday (take note, take note, coming soon, 7th of September). Awww….with this kind of date, I pasti ditched another ex-boyfriend whom I had gone together for four years, kan?
So, girls, open your eyes big-big and make sure you hitched up with the right guy. If you think he is not for you, fast-fast cabut and find another one quick-quick. AND IF YOU GOT DITCHED, FOR GOODNESS SAKE, LEAVE WITH DIGNITY AND DON'T BE A SOHAI LIKE THAT INA. Damn it, sudah kena putus tunang by Mawi and this jerk never even personally go and tell her. He sent his sister to cancel their engagement. And this stupid Ina still declare on national TV that she still has feelings for him.
Tiu, WOMEN, REMEMBER, Bunga bukan sekuntum, kuman (kumbang) pun bukan seekor, the sea has plenty of fishes, shrimps go, lobsters come. There is nothing stupidier than for a woman to declare that life is not worth living if a man dumped her. I am so sick of seeing girls went missing, faking suicides over broken relationships, binge on Panadol (one got killed in the process) etc etc. If you really, really want to die hor, can come to Komtar or go KLCC and jump fast-fast. Stop being a drama queen because no one cares, ok? If you don't treasure yourself, no one will. So start loving yourself before you want to love another. And remember that God loves you. Amen.
Actually I blogged this sometime on August 30th, 2006 but did not publish it 'cos I found it too geli lah. Makes my skin crawls only. But hey, I am married for 18 years on 25th November 1988. Well, not really. I don't know when is my real wedding ceremony as it is insignificant. But 25th November 1988 is the black & white marriage licence date. The date I sgined my identity away but gain money with it. Hehehe.
Happy anniversary, dear. Though I don't think you read this, I know your sons and almost the whole world read. So, cheers to 18 years and many more to come. Thank God and Praise Him for getting us through it all eventhough so many had tumbled and fell out of the marriage deal. Ours is made with superglue 'cos it has withstand the death of a son, two miscarriages and only God knows how many dents.