It is Easter Vigil today. It is also a momentous day in many Christians-to-be lives. Five years ago, I blurted out to my RCIA facilitators and fellow catechumens (those who were going through the Rites of Christian Initiations (for Adult) ) that, "WOW, today is more exciting than my wedding day." Indeed.
I had gone through a whole year of soul searching before that. On the last few days before our baptism, one of the verse from the Bible that hit me most is 'You did not choose me, I choose you". God chose me. Therefore, the joy of saying 'I do' to someone as awesome as God is certainly much more significant than saying 'I do' to a man.
We have to wear white. Buying those clothes for my kids and I were so much fun. My four children, with the blessings of my non-Christian (yet 😛 ) husband, were to be baptised with me. Two older ones made their own decisions to do so. The youngest one who was only 40+ days was my vow, you can say the sacrificial lamb to God. I conceived him miraculously (because I always have problems getting pregnant) right after my #4 son died. He wasn't part of our plans, but God gave me anyway. That's why I name him Matthew, Gift of the Lord.
Meanwhile, I have the opinion that I shouldn't baptise my children just because I can. I want them to make their own decisions. So, I was left with one more kid who was seven years old. I told my RCIA facilitators that I don't want to baptise him just because his two older brothers wanted to and his youngest baby brother was my thanksgiving 'gift to God'. My kid of course insisted he wanted to pray to Jesus too. He was in fact, the most faithful one. After my #4 son died, he spent every night praying to God to give him (#4) baby brother Vincent a playground in Heaven. He also prayed for a baby brother for me. In the end, I relented because he wanted to be part of the Christian gang so much.
So, on Easter Vigil 2003, I was baptised along with all my four children.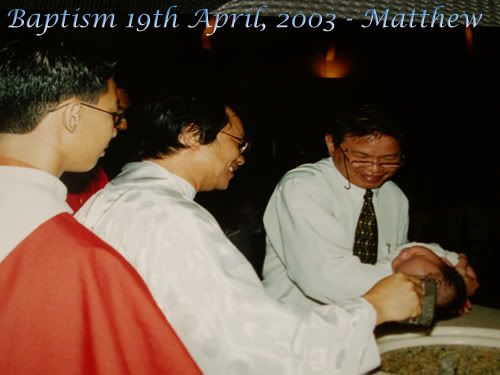 Therefore, today marks five years of my journey as a Catholic. I do not know if I am a better person as a Christian or not. But I am certainly the most fulfilled now. There is a huge difference between one in Christ and my previous life. In my previous life, I too worship something (many gods) mightier than I. But worshipping the Son of God is like having access to the Big Boss Himself without going through all the hierarchy.
One of the first question I asked when I joined the RCIA is "Is Jesus God?" Yes, Jesus is the Big Boss Himself. What's so special about being a Christian is our Big Boss came down to earth to experience living a life like ours. Hence, we have an understanding Big Boss who have gone through the shits we have to live every day.
Evangelizing is one of my weakest point. I dislike imposing my Christian's faith on others. I don't even like talking about Jesus with my own siblings. But then, God said this Universe (Catholic means Universal) is like a single body and we are all parts or limbs of the body. I know I serve my purpose elsewhere. Maybe the part of the universal organ that fits me most is the arsehole. LOL. I allow shits to pass through so that we don't become too constipated with too much "Christiany and churchy" stuffs. Being too holy-moly can make us too bloated and full of shits. And non-Christians hate that. I know I do, when I wasn't a Christian.
To all the people around the world who are going to be baptised tonight at the Easter Vigil, my prayers are with you. Yes, all over the world, only today is the day when people get baptised to be Catholics. It is only held once a year, unless you are a dying person or very old person then you get baptised at other time.
May all of you, and also all of us who are baptised be filled with the Holy Spirit and may we journey on in our life like Jesus Christ. Humble, faithful to God, righteous and kick-ass.
Amen!
Some old post that is related to my journey to be a Catholic :
Fond memories of my short acquaintance with a priest